The entire team here at Trovata is thrilled to share that we've received the award for "Best FinTech Startup" in the seventh annual FinTech Breakthrough Awards program by FinTech Breakthrough. Over 4,000 nominations poured in for this year's edition of the award program.
We'd like to thank everyone from our investors to our customers and current and past employees for all of your support and for helping to make Trovata one of the best fintech startups of 2023.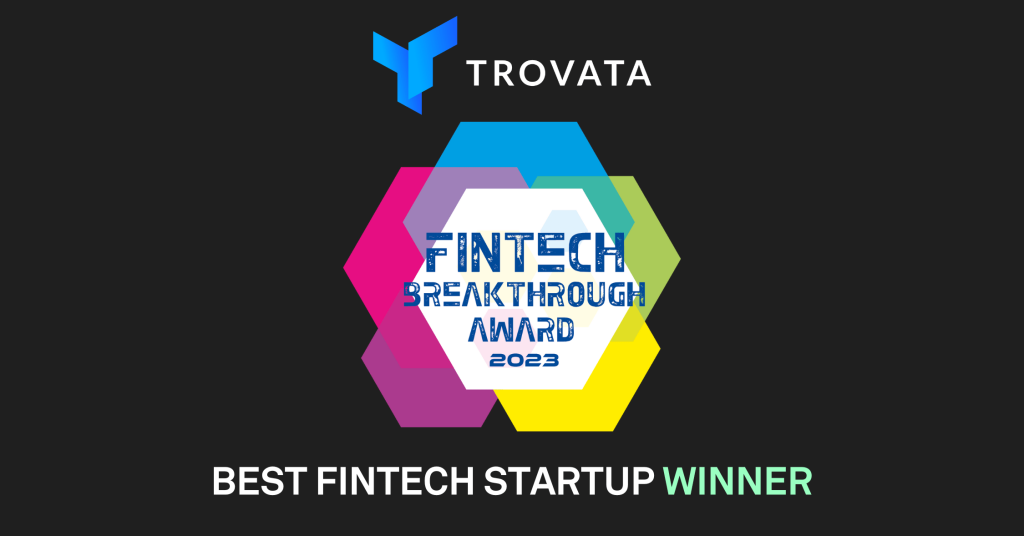 What Are the Fintech Breakthrough Awards?
The FinTech Breakthrough Awards is the premier awards program founded to recognize innovators in fintech from around the world in a range of categories spanning digital banking, personal finance, lending, payments, investments, and more.
FinTech Breakthrough Awards' mission is to perform the deepest evaluation of the fintech sector, and then recognize the creativity, hard work and success of these innovative FinTech companies, technologies, and products around the world.
This program was created by Tech Breakthrough organization, a market intelligence organization that has worked with hundreds of tech pioneers such as PayPal, Intel, Comcast, General Electric, Samsung, Cisco, Sprint, HP, Philips, Microsoft, NetApp, AT&T plus groundbreaking startup companies.

Why Trovata for Best Fintech Startup?
In today's economy and in light of the Silicon Valley Bank collapse, more finance teams—from startups to enterprises—want to gain greater visibility into their multi-bank data this year.
Enter: Trovata.
We've partnered with banks such as Wells Fargo, Capital One, and JP Morgan Chase to pioneer open banking for business, developing a library of corporate banking APIs. The result is a "breakthrough bridge" or modern cash management platform that connects businesses to their multiple bank partners and their data in a new and more convenient way.
Currently, we offer direct connections to over 50 enterprise banks and more than 2,000 business banks in the US, UK, EU, and Australia. Square, Etsy, and Eventbrite are some of the leading companies that have adopted Trovata's cash management platform.
On why Trovata was awarded best fintech startup of 2023, James Johnson, Managing Director, of FinTech Breakthrough stated,
"While obtaining banking data is vital for a company's finance team, this critical information can often be trapped within banking partners and become a hassle to retrieve and manage in the long term. Many enterprises commonly resort to an unwieldy combination of spreadsheets, online banking tools, and legacy enterprise systems to monitor and manage their cash flow."
He continued:
"Trovata is the first full-service offering of its kind, and a must-have in any savvy finance team's toolkit. The company is making it easy to keep track of transactions, build powerful reports and forecasts, and manage bank data – key for automating manual workflows in finance."

– James Johnson, Managing Director, FinTech Breakthrough
Trovata's Founder and CEO, Brett Turner, shared his excitement for winning the award and why he started Trovata:
"As businesses scale, staying on top of cash flow becomes complex. Manual and legacy solutions were the status quo for decades, but they didn't enable strategic, real-time decisions based on actionable intelligence. Trovata helps you understand how much cash you have on hand, better manage cash flow, and prepare more accurate forecasts automatically."

– Brett Turner, Founder and CEO, Trovata
Thanks again to everyone who has been part of our journey. We are only just getting started!
If you haven't yet, check out our newest releases, including cash positioning, bulk payments, and our first third-party integration with Morgan Money.