If you want to make sure your organization stays liquid and able to meet challenges day-to-day in a rapidly evolving business climate then you're likely to want to make use of cash management software.
Selecting and operating cash management software like the cloud-native open banking platform, Trovata, often falls within the scope of treasury management.

What Are the Types of Cash Management?
Two types of cash management are managing inflows (receivables) and managing outflows (payments). A solopreneur might be able to do this in their head, but for organizations dealing with more than one payment currency, multiple banks, entities, subsidiaries, and accounts (including virtual accounts), etc—it gets complicated.
This is where choosing the right cash management software can help.

What is Good Cash Management?
Companies with a strong cash culture will abide by good cash management practices. In doing so, they can find available money hidden in their balance sheet. By doing this, a cash manager will free up or eliminate the need for financial assets from other sources.
There are challenges to good cash management:
Forecasting quality is directly related to the time and effort to produce reports, resulting in slow decision cycles.
Poor data quality requires time-consuming data cleaning from banking sources.
Report generation requires manual financial data entry.
Working with multiple currencies adds complexity.
Staying current with regulatory requirements can feel overwhelming.

When evaluating cash management software, you'll want to consider how each potential solution can improve your day-to-day life in relation to those challenges.

What is a Cash Management Platform?
A cash management platform is software designed to help a company's finance and treasury departments manage liquidity. There are great variations in the way this software is designed and delivered, including cash management solutions that are hosted on-prem, platforms hosted in the cloud, those that connect to banks with open banking APIs, etc.
Each system is designed around a core set of assumptions. How well your company maps to those core assumptions will determine whether the system is going to be a good fit.
At a basic level, all of the worthwhile options will help with receivables, payments, bank statement processing, and analyzing cash flow. However, not all cash management systems are created equal.

Evaluating Cash Management Software
Look for something that will improve efficiency without creating a security headache, improve visibility into company financial data—whether it's one business unit or the entire enterprise—and be flexible enough to help you meet current and emerging business challenges.
Key Questions:
Is the information real-time and accurate? Does it come from a bank API or is it loaded only at the end of the day?
Can the system grow with your future needs? As you expand into more banks, currencies, and accounts, can the system keep up?
Does it handle a variety of types of data, and can you organize it according to the needs of your business? Is it flexible in how data is organized so you can generate insights quickly without manual export-to-Excel workflows?
Is risk management taken seriously?
Is automation and standardization a core feature?
Does it harness large language models like ChatGPT and other forms of AI technology to extend the capabilities of your finance team?

In order to spend more of your time increasing the liquidity of your organization and less of your time managing the software itself, you want to be certain that the cash management software you select operates in real-time, uses a 21st Century data architecture for flexible finance dashboards/forecasts/reporting, security controls and risk management features, and automation that gives you your time back.

Flexibility as a Core Attribute
Many legacy solutions are based on inflexible database structures from the late 1908s and 1990s. These solutions worked great for the companies that needed them in the 1990s.
Today, however, many things work differently: bank data is available in real-time, it's easier to establish a global footprint, and the finance leaders of today think about cash management in fluid ways that yield deeply relevant insights for their companies.
As you evaluate cash management software, you'll want to know that this kind of flexibility is a key component of the software, not bolted on later or left for your IT department to sort out on their own. They have enough systems to manage already!
If you're at an enterprise, can they integrate and maintain the solution with your banks? What about with your existing software, such as your ERP, whether it be Oracle, NetSuite, or SAP?
If you're at a mid-sized company, does the software scale with your growth in bank accounts, currencies, and regulatory concerns?
If you're in a small business, can the software free up your time as well as your cash so you can concentrate on the next stage of growth?

Consider: What do you need now? What will you need in the future? Will the solution be flexible enough to grow with you? Because if you are successful at cash management, you will be growing.

Other Important Factors to Consider
Some other core attributes to assess include:
Security: Is the provider SOC-compliant? How is your data being protected?
Cost-effectiveness: What about the cost-effectiveness, can you justify the cost to implement the solution? Newer cash management solutions, like Trovata, are more likely to provide the capability you need for less than the legacy systems that are built on older, more expensive-to-maintain systems.
Time-to-Value: How fast will the software enable you to gain total cash visibility? How quickly can you connect to your banks and get up and running?

Key Features of Cash Management Software
Okay, now that you know a little more about the key attributes, let's take a look at some of the core functionalities of cash management software and their use cases.

Multi-Bank Data Aggregation: A prerequisite feature for a good cash management platform is automatically aggregating, normalizing, and consolidating your multibank data. Especially since the SVB collapse, companies are working to minimize liquidity risk by opening up multiple accounts with multiple banking partners.
Cash Positioning: Automate real-time global positions, reporting across all banks and accounts. A good cash positioning feature will allow you to configure custom reporting structures by entity and view FX positions by currency.
Transactions Search & Tagging: Find any type of transaction using natural language search (like Google) across all transaction data. 'Tag' transaction types for treasury reconciliation or cash flow analysis.
Cash Flow Analysis: Built-in business intelligence charting for cash flow analysis. Drill down into charts to review transactions. Analyze cash burn and trends in historical data.
Cash Reporting: Purpose-built reporting for direct method cash flow statements, vendor/partner analysis, subsidiary cash flow reporting, balances reporting, etc.
Cash Forecasting: Automate your forecast baseline leveraging ML models. Build and maintain a 5-day, 13-week, and 12-month cash forecast.
API Payment Processing: Initiate payments from various banks directly from your cash management platform. Set various workflows for payment approvals. Look for a solution that offers ACH, RTP, wire, and international transfers.
Mobile App: Bonus if your cash management platform offers a mobile app as a secure executive dashboard for cash positions on the go. It should streamline communication and reporting for executives, the board, and major investors. Receive alerts and payment approvals notifications.
AI: Interface with a ChatGPT-like interface to get instant answers to the cash questions that matter most.

Try Trovata, the JP Morgan and Wells Fargo-Backed Cash Management Platform
We hope this helped you on your mission to pick the best cash management software. We might be a bit biased, but we think Trovata is a worthy contender to add to your list of cash management platforms to evaluate.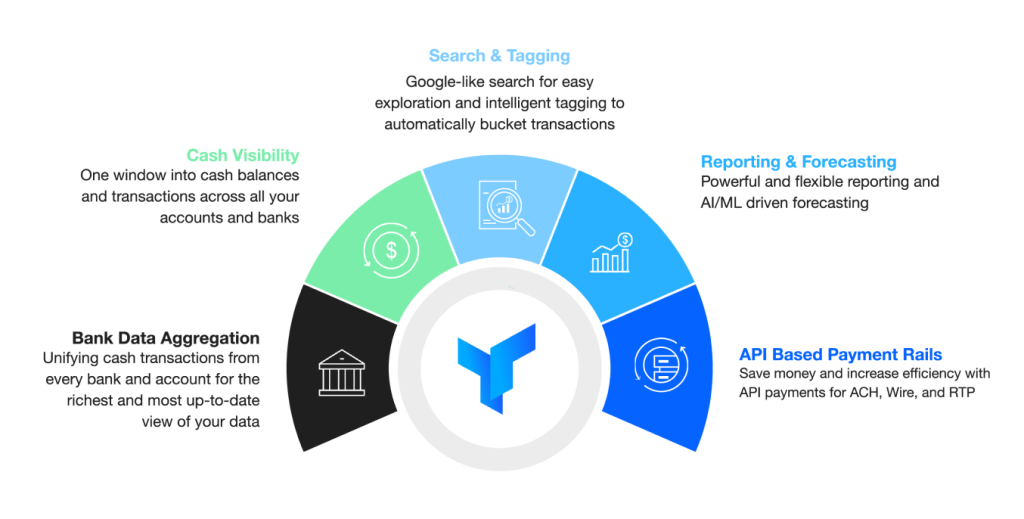 Why? Trovata developed the largest library of corporate bank APIs, enabling finance and treasury teams to aggregate all cash balances and transactions across all banking partners in one spot. By unlocking siloed bank data with unlimited cloud storage and bringing it into Trovata, your finance and treasury teams can finally have a single source of truth from which they can analyze, report, forecast, and move cash.
Trovata's clients include some of the most forward-thinking treasury teams at fast-growing companies like CrowdStrike, Sonos, and Krispy Kreme.
"Since we started using Trovata, our treasury technology capabilities have completely transformed for the better. We have more time to focus on driving strategy and unlocking growth opportunities."

– James Krikorian VP & Treasurer at Krispy Kreme

Benefits of Using Trovata
Less Manual Work → Increase Productivity: No need to manually log into multiple bank portals or download and interpret statements. Eliminate time-consuming spreadsheet work with our streamlined platform.
Increase Cash Visibility → Spend Money More Efficiently: Quickly determine cash position, how
cash is moving, and where it will go.
Minimize Spreadsheet Risk → More Secure Process: Enjoy the peace of mind of automatic report generation and delivery. Easily spot financial trends and mitigate potential risks.
Better User Experience → Faster Adoption: Trovata's interface is intuitive and easy to use. No IT required to get started.

Further Resources
Check out these other helpful guides, case studies, and articles:
If you're ready to start working with cash management software that takes advantage of modern cloud technology, request a demo of Trovata today.